Local charities in Castletownbere and Kenmare benefit from bumper charity donation from Ring of Beara Cycle 2018
The Ring of Beara Cycle Committee this week presented cheques to six local charities who are benefitting from this year's event. Volunteers who helped organise and run the event were also praised for their commitment and community spirit.
Castletownbere Community Hospital (€13,250), Castletownbere Day Care Centre (€13,250), Kenmare Family Resource Centre, Kenmare Special Olympics, Kenmare Special Needs Group, and St John of God Services Kenmare were on hand to receive their donations totalling €53,000 from the Ring of Beara Organising Committee.
The Ring of Beara Cycle took place on Saturday 26th of May when the people of Kenmare and the Beara Peninsula welcomed more than 4200 cyclists from all over Ireland and around the globe for the popular event.
Phil Murphy from Castletownbere Day Care Centre said, "We were very pleased to be chosen as one of the charity recipients from this year's event. It is a great event to be involved in and the day was absolutely spectacular. The funding we are receiving will make a big difference to us and on behalf of everyone who works at and avails of the service I would like to say thank you to everyone who took part and the organising committee. We enjoyed the day thoroughly and look forward to future years."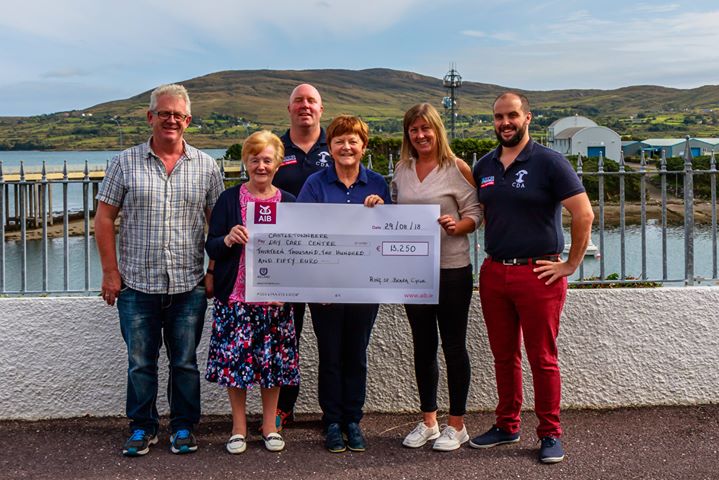 Pictured above; Presentation to Castletownbere Day Care Centre
Johnny Harrington; Ring of Beara Cycle Committee, Pascal Hurley, Darren Lynch; Ring of Beara Cycle, Phil Murphy; Day Care Centre Manager, Cian Murphy; Castletownbere Development Association Chairman & Tara Hanley; Ring of Beara Cycle.
Picture; Anne Marie Cronin
Cathy Sheehan, A/Matron, Castletownbere Community Hospital, said, "We are delighted to be chosen as a charity recipient for this year's Ring of Beara Cycle. It's such a popular, exciting event, it has been a great experience being part of it. The money raised by the cycle will be a great help to the hospital and our staff and residents alike are extremely grateful. I'd like to congratulate all involved, particularly the volunteers who give up their time, and thank everyone for this significant donation."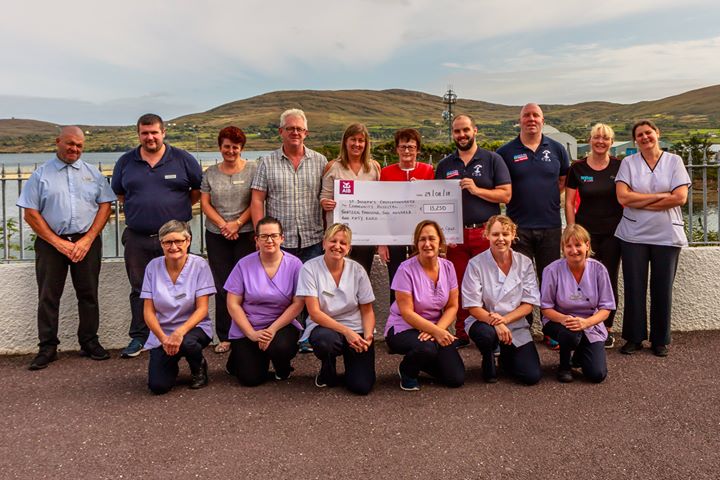 Pictured above; Presentation to Castletownbere Community Hospital
Back Row; Olan Sweeney, David O'Sullivan, Margaret Spencer, Johnny Harrington Ring of Beara Cycle Committee, Tara Hanley, Cathy Sheehan Matron Castletownbere Hospital, Cian Murphy Castletownbere Development Association Chairman, Darren Lynch Ring of Beara Cycle, Carol Hurley, Carmel Castle,
Front Row; Jane McCarthy, Emer Hurley, Catherine Harrington, Catherina Sheehan, Brenda O'Mahony, Coleen O'Sullivan.
Picture Anne Marie Cronin
Darren Lynch, Member of the Ring of Beara Cycle organising committee said, "I would like to thank all the volunteers without whom this event would not be possible. Because of their hard work along with the cyclists we are very pleased to be in a position to make a difference to local charities. Castletownbere Community Hospital provide such a vital service to the local community here in West Cork. We are all looking forward to next year's event already and being able to contribute again to local charities."
The Ring of Beara Cycle Kenmare will take place on 25th May 2019 – with entries going on general sale on Thursday 13th (past-participants will have access to a pre-sale on Wednesday 12th). The event sold out in less than 24 hours last year. Cyclists will experience the magnificent scenery of the mountains, valleys and the rugged coastline of the Beara peninsula as well as the famed local hospitality.
Cyclists pass through picturesque and quaint towns, including Ardgroom, Eyeries, Allihies, Castletownbere, Adrigole and Glengarriff. Participants will enjoy music, food and chat at the fully stocked food stations dotted along the routes. The event numbers are capped at 4200 as per last year's event.
The event will finish with a great party atmosphere and superb facilities including hot food, hot tubs, massage, entertainment and finishers' medal for all cyclists.
If you would like to volunteer for the event please contact info@eliteevents.ie
For more information please visit www.ringofbearacyclekenmare.com
For more information contact Kelly Crichton kelly@eliteevents.ie 0646635512.